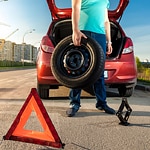 When you think of a spare tire, you might think of the little doughnut that many vehicles come with. While that is one kind of spare tire that you might have, there is actually a whole selection of spare tires, and you might have a different one in your current car. At Parks Fiat of Wesley Chapel, we want to help you understand some of the positives and negatives of a couple of the types of spare tires.
A compact temporary spare tire is the doughnut that you're familiar with. What's nice about this particular kind is that it's small, so it doesn't take up a lot of space. But you should know that this type of tire needs to be switched out for a regular one as soon as possible if you ever have to put it on.
A full-size spare tire takes up a lot more room because it's the same tire you have on your four wheels. But you might like the ability to rotate it in with your other four tires.